Introducing WDC's Builders Division
Not well known by most, but there is another side to WDC …We don't just assist in making single residential properties beautiful, we also work hard on multi- home projects as well…That's where the Builders Division of WDC comes into play.
The Builders Division is a very special department that provides appliances to contractors and developers who need multiple kitchens outfitted at once. Their projects can be from five houses to a high-rise apartment complex, to a large development of 300-400 homes, any development with multiple units. The department doesn't work on anything commercial, but instead specializes in residential projects – single family, multi- family and custom homes. This unique division has its own trucks and crew to deliver and install appliances for their specific projects.  The division provides all the kitchen appliances needed, with top brand name packages that include refrigerators, ranges, wall ovens, and dishwashers, along with outfitting laundry facilities with the many washer and dryer brands that WDC carries.
The division was founded over two decades ago by Jim Williams, who still manages the department to this day. Rosa Von Rueden, who has worked in the division for 18 years, says… "I absolutely love helping the contractors and developers find the perfect kitchen package for their customers. But the greatest compliment is when they send referrals to us because they liked the service WDC provided. That makes me proud that I have the knowledge to help our customers and make the WDC Builders Division stand out. The best part of the job is when the job sites are completed, and we get to see how beautiful our appliances look in those kitchens. That's when I know WDC has done a fantastic job, and I've been a part of it. There's no better feeling than that."
""I absolutely love helping the contractors and developers find the perfect kitchen package for their customers."

Rosa von Rueden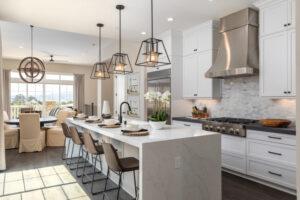 The Builders Division is extremely busy, with numerous projects going on simultaneously. The division is growing every year, and they anticipate that they will be busy for a long time to come. In fact, they just added more members to the team in the office, warehouse and out on the field to give our customers better and faster service. WDC and the Builders Division take pride in what they do, and that shows during the construction process as well as in the end result of every project we're a part of.  
If you have a residential project that might be
a good fit for WDC's Builder Division, contact:
Jim Williams
Manager of The Builders Division